A Summer Salad & a Book of Herbal Remedies!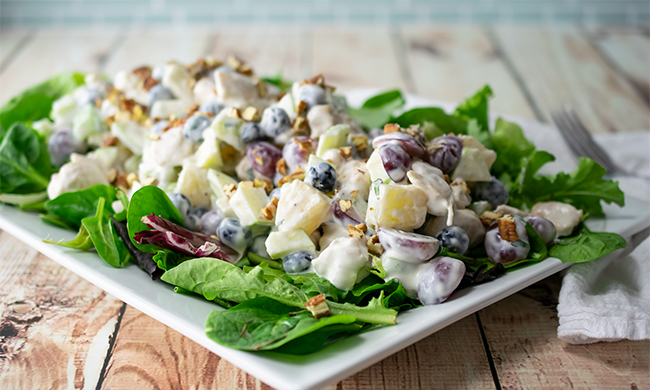 This Steamboat Willie Green Apple Waldorf Salad, created in honor of Mickey Mouse's 90th anniversary, is perfect for adopting a diet rich in produce with green apples, pineapple, blueberries, grapes, celery and, of course, salad greens. With all the fresh flavor, including Dole's 50/50 Salad Blend – a robust and balanced blend of delicate baby greens and lettuces: tender baby spinach, peppery radicchio and invigorating arugula and chard – it's an ideal recipe to honor National Eat More Fruits and Vegetables Day.
Find more easy-to-make recipes, kid-friendly activities, inspiration for families spending time together at home and more at dole.com/at-home-resources. Sources: Dole & Family Resources
Watch video to see how to make this recipe!
The Lost Book of Herbal Remedies
by Dr. Nicole Apelian.
You'll find 800+ beneficial plants and remedies in "The Lost Book of Herbal Remedies". It includes recipes of tinctures, teas, essential oils, syrups, salves, poultices, infusions and many other natural remedies that our grandparents used for centuries. What's also special about this book is that it has between 2 and 4 high definition, color pictures for each plant and detailed identification guidelines to make sure you've got the right plant.
Visit Miami City Directory to search for local businesses and services.